When it comes to grilling, nothing surpasses the taste of a juicy Wagyu steak. Grilling Wagyu is an unparalleled experience. Its intense flavor and melt-in-your-mouth texture make it a true delight for every grill enthusiast. However, the key to a perfect result lies in the proper preparation. With numerous ways to prepare this premium beef, how can you ensure that your steak turns out perfect every time? Follow these five tips, and you'll be grilling Wagyu like a pro in no time!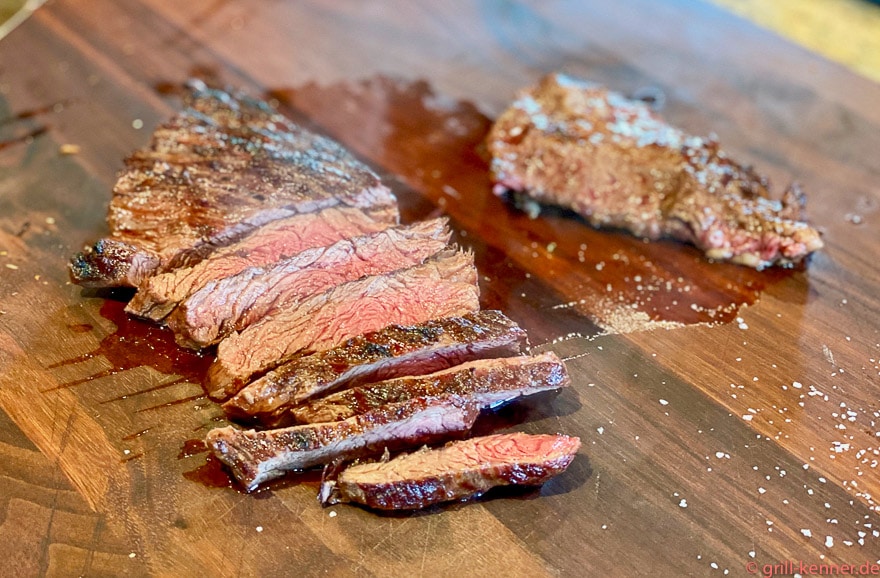 What Makes Wagyu Beef Exceptional?
Have you had the pleasure of trying Wagyu beef? If so, you know how tender and juicy it is. What sets Wagyu apart from other beef varieties? Firstly, Wagyu cattle are carefully raised and undergo strict quality controls. Secondly, the meat itself is marbled with fat, giving it a rich, decadent flavor highly appreciated by many.
Good Wagyu beef doesn't happen overnight. Wagyu cattle are fed a special diet rich in rice straw and barley for years. They reach slaughter age, typically 2 to 3 years old, whereas German cattle are usually slaughtered at 8 months. In addition to their unique upbringing, the genetics of Wagyu cattle play a role in the unparalleled taste and quality of their meat. The constant movement of Wagyu cattle also contributes to the excellent marbling of the meat.
The so-called Kobe cattle are particularly well-treated Wagyu cattle, known for even more tenderness and marbling. This is achieved through mechanical massage, traditionally done by hand using beer or sake on the fur.
Overall, it's no surprise that Wagyu beef comes with a hefty price tag – with its special characteristics and careful upbringing, it truly earns its title as a premium meat.
Different Approaches to Preparing Wagyu vs. Regular Beef
In preparing Wagyu beef, it's crucial to note that due to its high fat content, it cooks faster and at lower temperatures than regular beef. Don't hesitate to grill your Wagyu steak rare or medium-rare – prolonged cooking can make the meat tough. The core temperatures for Wagyu are significantly lower than those familiar with other cattle breeds.
Another essential aspect of preparing Wagyu is harnessing its natural flavor by serving it simply with good salt, rather than drowning it in sauces or marinades. With its melt-in-your-mouth texture and rich taste, careful preparation of Wagyu beef ensures an extraordinary dining experience.
We've also explained the differences in preparing various cattle breeds in our video.
Our 5 Tips for the Perfect Wagyu Grilling Experience
When dealing with Wagyu beef:
Start with a Clean Grill:
Ensure both the grill and grill grates are clean to prevent Wagyu from sticking and enhance the flavor. Wagyu does not release from the grates as readily as regular beef due to the lower cooking temperatures.
Preheat to Medium-High Heat:
Only preheat your grill to medium-high heat before placing Wagyu steaks directly on the flame. Be cautious as the high fat content in Wagyu can lead to flare-ups. Consider placing the grates higher or using the upper rack to avoid excessive heat.
Bring Steaks to Room Temperature:
Allow your Wagyu steaks to reach room temperature before grilling. This ensures more even cooking and prevents the need for excessive direct flame heat. Remember the lower core temperatures required for Wagyu – a medium-rare steak is achieved at around 48 degrees Celsius, approximately 10 degrees lower than regular beef.
Consider Alternative Grilling Surfaces:
Grill Wagyu on a cast-iron plate or a Teppanyaki grill for a different approach. Find detailed instructions in our video.
Let Steaks Rest After Grilling:
Allow Wagyu steaks to rest for 5 minutes after removing them from the grill to distribute the juices evenly. Enjoy finely sliced Wagyu with a touch of salt.
If you're lucky enough to get your hands on Wagyu Tomahawk steak – something we haven't achieved yet – here are some tips on preparing Tomahawk.
These are our five tips for preparing perfect Wagyu steaks on the grill! Have fun, and feel free to share in the comments how you prepare your Wagyu.